Commander In Chief: Part 2 is scheduled for September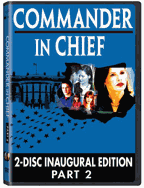 We just got information from Buena Vista Home Entertainment that the studio will be releasing Commander In Shief: The Inaugural Edition: Part 2 on DVD in September.
Containing epsidoes 11 – 18, this political drama stars Geena Davis as Mackenzie Allen, the first woman President of the United States. While breaking new ground as the first female leader of the free world, "Mac" faces tremendous challengers, both personal and political, unknown to any previous Commander In Chief. Her family adjusts to their new life as the "first family," and Mac has an ongoing conflict with foes led by the Speaker of the House (Donald Sutherland). Amidst constant struggles and fiery political battles, Mac perseveres with integrity and poise.
The 2-disc DVD set contain the series' episodesas well as an Exclusive Interview with Geena Davies, a selection of Unaired Scenes, Bloopers and Commentaris by the show's creator.
"Commander In Shief: The Inaugural Edition: Part 2" will be on store shelves on September 5 for $29.98.