Classic Horror Halloween treats are on their way from Warner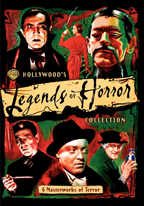 Warner Home Video is putting the final touches to a wonderful DVD set of classic horror films for release this Halloween that will have genre fans holding out their hands in delight to get the treat.
CalledHollywood's Legend of Horror Collection this is a 3-disc DVD set featuring 6 classic horror movies from the 30s and 40s, including some very cool, rarely-seen gems. The biggest draw is certainly the inclusion of Doctor X in its original two-strip Technicolor version, making it possible to see Fay Wray's cream-colored lingerie as she writhes trying to escape Doctor X's clutches. The film is perfectly supplemented by its 1939 sequel, The Return Of Doctor X, starring Humphrey Bogart as the raised-from-the-dead doctor. This disc will feature Commentary Tracks on both films. Tom Weaver provides the one for "Doctor X" while Steve Haberman and director Vincent Sherman provide insight into the sequel.
On the second disc you will find Peter Lorre under the direction of Karl Freund in Mad Love, which is to this day, considered to be one of the best horror films of the era. Also on this disc you will find Tod Browning's 1936 fright fest The Devil Doll starring Lionel Barrymore in what is considered one of Browning's best thrillers. Next up are The Mark Of The Vampire the atmospheric vampire story starring Bela Lugosi and Lionel Barrymore in the remake of Tod Browning's lost silent film "London After Midnight", and The Mask Of Fu Manchu with Boris Karloff in the lead. All films will be supplemented by Commentary Tracks, with the exception of "The Devil Doll.
Like myself, I am sure many fans of classic horror films have been dying to see these films in their full glory on DVD and finally their dreams will come true when "Hollywood's Legend of Horror Collection" hits stores on October 3 with a minimum suggested retail price of $39.92.