Caddyshack and House Of Wax make their way to HD-DVD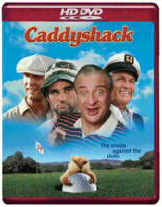 Harold Ramis' comedy Caddyshack is coming to HD-DVD this fall, courtesy of Warner Home Video, as we have just been able to find out.
The greenskeeper is about to start World War III against a gopher. The judge plays to win but his nubile niece has her mind set on scoring her own way. The playboy shoots perfect golf by pretending he is the ball. And the country-club loudmouth just doubled a $20, 000 bet on a 10-foot putt. Insanity? No. Caddyshack. Chevy Chase, Rodney Dangerfield, Ted Knight and Bill Murray tee off for a side-splitting round of fairway foolishness that does for golf what Animal House did for college fraternities and Police Academy did for law enforcement. Chase's laid-back delivery has kept audiences of Saturday Night Live and movie hits National Lampoon's Vacation, Fletch and Spies Like Us in the aisles for years. Sharing his wisdom with a caddy or his bed with debutante Lacey Underall, he never misses a shot. Rodney Dangerfield is well, Rodney Dangerfield. Even when he's off camera, he's on. And fans that have made Easy Money and Back to School box-office hits like him just fine. Knight-possessor of the best slow burn since Laurel and Hardy fusses, fumes and finesses his way through his role as Bushwood Country Club's one-man Legion of Decency. Murray's hole-in-the-head assistant greenskeeper is straight out of Looney Tunes. Murray, who brought the house down in Meatballs, Stripes and Ghostbusters, is funny even when he talks to himself. In Caddyshack, the term "golf nut" takes on a deranged double meaning and the laughs are par for the course!
The release will come in the movie's original widescreen presentation, of course, and feature a 5.1 channel English as well as mono tracks in English, French and Spanish.
Also scheduled for release is the 2005 remake of House Of Wax. It tells the story of a group of friends who fall prey to a sinister plot while passing through a small town on their way to a college football game.
No information about extras or the final street date of these discs have been announced yet but we will keep you posted, of course.