Buena Vista Home Entertainment announces first Blu-Ray titles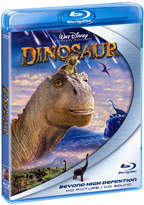 This morning, Buena Vista Home Entertainment has just announced its first slate of high definition Blu-Ray titles, scheduled for release on September 19.
The line-up will contain the Walt Disney Pictures Dinosaur and Eight Below as well as the Miramax titles Jay And Silent Bob Strike Back and The Great Raid.. While the title selection may appear a bit weird at first, "Dinosaur" will give you a first glimpse at what fully digitally created films can look like in high definition, while "Jay And Silent Bob" is clearly a movie that will appeal to early adopters.
"Eight Below" and "Dinosaur" will both come with Blu-Scape, an exclusive high definition short film inspired by the respective movie, a feature that will be exclusive to the Blu-Ray releases and will not be found anywhere else. Like the feature films, these shorts, shot by renowned cinematographer Louie Schwartzberg, will be presented in 1080p encoding for the best possible quality.
Buena Vista Home Entertainment is also already working on its second batch of Blu-Ray titles, scheduled for release on October 17, which will include films such as Glory Road, Haunted Mansion, Dark Water, Gone In 60 Seconds and The Brothers Grimm. "Gone in Sixty Seconds," "Glory Road," and "Haunted Mansion" will also offer the Blu-Scape feature.
At this point, Buena Vista Home Entertainment has announced a $34.99 price point for their Blu-Ray release, which is fairly steep, especially of "Blu-Scape" is going to be the only bonus materials on these releases. Let's hope they will revise this before the actual street date.