Another cult hit comes to DVD from Synapse Films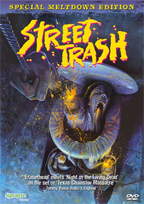 Street Trash is independent filmmaker Roy Frumkes' little masterpiece that is now returning to DVD in a Special Meltdown Edition from Synapse Films.
In the sleazy, foreboding world of winos, derelicts and drifters in lower Manhattan, two young runaways – eighteen-year-old Fred (Mike Lackey) and his younger brother, Kevin (Mark Sferrazza), live in a tire hut in the back of a vast auto wrecking yard. Fred is burnt-out by the forces that destroyed his family life, whereas Kevin, having missed much of their childhood trauma, yearns to get back into society and lead a normal life. The most lethal threat to the boys is the case of Tenafly Viper in Ed's liquor store widow. Ed found the cheapo wine behind a wall in his basement. The stuff's forty years old, and it's gone real bad. Anyone who drinks it melts within seconds! And it's only a dollar a bottle!! The bums are lining up for their deaths like moths at a flame, and Fred standing right there amongst them.
Coming as a 2-disc edition, this version of the film will feature a widescreen transfer of the movie, taken from the original camera negatives, complemented by a 5.1 channel Dolby Digital audio track. Two Commentary Tracks will be included, featuring Roy Frumkes and director James Muro. The heart of the new release will be the all-new 2-hour Documentary "The Meltdown Memoirs" chronicling the making of the movie. Also included on the release is the original 16mm Short Film that inspired the movie as well as the long-lost, never-before-seen Promotional Teaser for the film. The DVD set will be rounded out by a Still Gallery and Theatrical Trailer.
"Street Trash: The Meltdown Edition" will come to your neighborhood on September 26 with a $29.95 sticker price attached to it.