Warner Home Video raises the dead in Tales From The Crypt: Season 4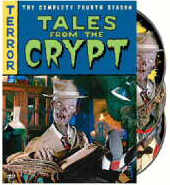 We just got information in from Warner Home Video that the studios is preparing Tales From The Crypt: The Complete Fourth Season for release in July.
Containing all 14-episodes from the show's season, this time around we get to witness guest stars such as Tom Hanks, Treat Williams, Christopher Reeve, Meat Loaf, Judd Nelson, Robert Patrick, Zelda Rubinstein, Cathy Moriarty, Brad Pitt und many more under the direction of lumiaries, such as Richard Donner, Tom Hanks, Steve Perry, Kevin Yagher, William Friedkin and Gary Fleder – to name just a few. Clearly, this will once again be a great opportunity to revisit this beloved TV show.
Based on the legendary and gruesome EC Comics from publisher William Gaines, this horror anthology featured stories of murder, the supernatural, gore and humor. Many viewers tuned in for the inevitable twist ending that the show provided – as well as the show's host, the Crypt Keeper.
Coming to stores on July 25 as a 3-disc set, the "Tales From The Crypt: The Complete Fourth Season DVD will set you back $39.98, but I'm sure it is very much worth every penny of it.