Warner Home Video bows a Grand Prix Special Edition this summer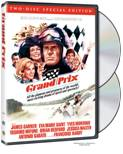 One of the greatest racing spectacles ever to reach the motion picture screen will finally make it to DVD this July, courtesy of Warner Home Video with the release of their Grand Prix: 40th Anniversary Two-Disc Special Edition.
Starring James Garner and directed by John Frankenheimer this is the epic saga of four Formula 1 race car drivers gunning for glory on tracks around the world. "Grand Prix" was shot in stunning locations throughout France, Italy, Monaco, England and Belgium at a series of races, winding up at the British Grand Prix, where glory awaits one champion and tragedy another. The film also offers a rare glimpse inside the Ferrari factory in Maranello, Italy.
The split-screen images in "Grand Prix" capture the overlapping drama involved in racing and you-are-there POV camerawork intensifies the hard-driving thrills. Nearly 30 top drivers of the day took part in the excitement.
Warner Home Video brings this film to DVD for the first time as a "Grand Prix: 40th Anniversary Two-Disc Special Edition", featuring a completely new digital transfer from restored 65mm elements of the movie and a remastered 5.1 channel Dolby Digital mix.
The release will also contain a number of Never-before-seen Documentaries, such as "Pushing the Limit: The Making of Grand Prix," a new 40th Anniversary Making-of documentary, or "Flat Out: Formula One in the Sixties," a history of Formula One racing in the sixties. Others are "The Style and Sound of Speed," offering a look at the style of Saul Bass and the film's sound design as well as "Brands Hatch: Behind the Checkered Flag," a behind the scenes tour of the famous raceway used in the movie. In addition there is "Grand Prix: Challenge of the Champions," the 1960's Featurette offering a behind-the-scenes look at the Grand Prix and a "Speed Channel Promo."
All this will be wrapped up and in stores on July 11 with a suggested retail price of $20.97.