Anchor Bay Entertainment brings us Joe Dante's Masters Of Horror entry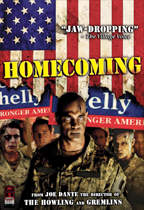 As part of their critically acclaimed horror series "Masters Of Horror, " Anchor Bay Entertainment is currently preparing a DVD version of Joe Dante's installment in the anthology, entitled Homecoming.
The subject of intense debate since its first airing, Joe Dante's "Homecoming" blends zombie horror and contemporary political satire with chilling – and timely – results. Terror and scandal grip the nation when dead soldiers rise en masse to have their voices heard one more time during the Presidential election. Based on the award-winning short story "Death and Suffrage" by Dale Baily and adapted by Sam Hamm, "Homecoming" stars Jon Tenney and veteran Dante collaborator Robert Picardo.
The release will feature a 16×9 enhanced widescreen presentation as well as a wealth of extras, spearheaded by a Commentary Track by writer Sam Hamm. Also included are the Featurettes "The Dead Come Marching" and "Working With A Master: Joe Dante." Further look for The Making Of Homecoming as well as a number of On Set Interviews with Jon Tenney, Robert Picardo and Thea Gill. An excerpt from the Fantasy Film Festival will also be included in which Mick Garris is interviewing Joe Dante. The release is rounded out by a Still Gallery, Trailers and a Joe Dante Biography as well as Screensavers and the Screenplay for DVD-ROM users.
"Homecoming" will be in stores on July 11 for only $16.98, continuing this great anthology of horror films.