The Ellen Show is coming to DVD this July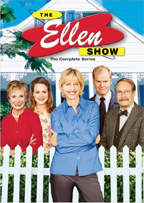 Emmy Award-winning comedienne Ellen DeGeneres arrives on DVD this summer in the comedy series The Ellen Show: The Complete Series from Sony Pictures Home Entertainment.
When her high-profile, high-finance start-up Internet company goes belly up, Ellen Richmond (Ellen DeGeneres) leaves the big city to return to her small town roots. She nabs a job as a counselor at her old high school and moves in with eccentric mother (Cloris Leachman) and unlucky-in-love sister (Emily Rutherfurd). Ellen becomes reacquainted with her senior prom date, Rusty (Jim Gaffigan), who thinks they can pick up where they left off (although she's a lesbian), and her befuddled high school teacher, Mr. Munn (Martin Mull). Although a world of experience separates them, Ellen slowly begins to adjust to a very different way of life she thought she left long ago.
The show will make it to DVD as a 3-disc set containing all 18 episodes of the show, including 6 never-before-aired episodes. The DVD set will be in stores on July 11 with a $29.95 price tag attached.