Steven Segal steps into the shadows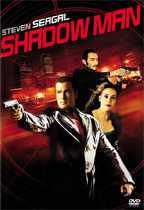 Sony Pictures Home Entertainment has just unveiled details about the DVD release of Shadow Man, the latest action adventure starring Steven Segal.
Steven Seagal stars in this pulse-pounding thriller about an ex-C.I.A
operative who must unravel a lethal web of international espionage to save his daughter and stop a deadly virus from falling into enemy hands. When rogue operatives within the C.I.A. smuggle a lethal virus out of the U.S. and use ex-intelligence officer Jack Foster (Seagal) as their courier, they have no idea the fury that they're about to unleash! Unaware of the plot he's involved in, Jack takes his daughter on a trip to Europe, where she's kidnapped by a mysterious foreign agent. Now to save her and take down her kidnappers, Jack must blast his way into the shadowy world of international espionage, where enemies lurk at every corner and friends can turn on you in an instant!
The DVD will feature an anamorphic widescreen transfer of the movie in its original 2.35:1 aspect ratio and comes with Dolby Digital audio tracks in English and French. No extras will be included on this release.
"Shadow Man" is scheduled for release on June 6 with a suggested retail price of $24.95