Sony Home Entertainment fills up the Road House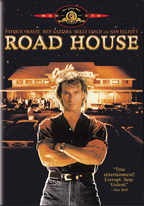 Sony Home Entertainment has prepared a Deluxe Edition of the 80s movie Road House and will release it on DVD this July under their MGM label.
Patrick Swayze stars in this sexy no-holds-barred action thriller as Dalton, a legendary bouncer who comes to Jasper, Missouri, for a special purpose: to restore order at the notorious Double Deuce bar. In one spectacular fight after another, Dalton rids the bar of thugs and henchmen. But when he runs afoul of a ruthless crime boss (Ben Gazzara) who controls the town, the stage is set for a blistering showdown that'll leave only one man standing!
The release will feature an anamorphic widescreen transfer of the movie in its 2.35:1 aspect ratio tracks in English, French and Spanish. As extras ,the release delivers 2 Commentary Tracks. The first one features director Rowdy Herrington while the second one features "Road House" aficionados Kevin Smith and Scott Mosier. A Trivia Track is also included as well as 3 Featurettes, entitled "On The Road House," "Sneak Peek – Road House 2: Last Call" and "What Would Dalton Do?"
This "Road House Deluxe Edition" will come to DVD on July 11 for $19.94. A UMD version for the Sony PSP will also be released on the same day with a $19.98 price tag.