It's getting twice as Hot in here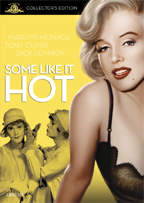 Sony Pictures Home Entertainment's purchase of the MGM library brough them so many great titles. A new two-disc special edition of Some Like It Hot is coming to DVD.
Two struggling musicians (Tony Curtis and Jack Lemmon) witness the St. Valentine's Day Massacre and try to find a way out of the city before they are found and killed by the mob. The only job that will pay their way is an all-girl band so the two dress up as women. In addition to hiding, each has his own
problem; one falls for another band member (Marylin Monroe) but can't tell her his gender, and the other has a rich suitor who will not take "No" for an
answer.
The set will come with a Collectible Booklet and Postcards, a new Audio Commentary featuring interviews with Curtis and Lemmon. The new Doucmentaries The Making of Some Like it Hot and The Legacy of Some Like it Hot, a look back featurette and a Memories of the Sweet Sues Featurette, a virtual Hall Of Memories and the Original Pressbook Gallery.
Wrapped pu in a nice package, the set will arrive on July 18 for $24.96.