Basic Instinct 2 goes Blu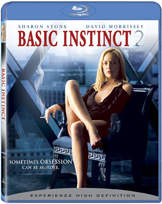 Sharon Stone's return to character comes in the form of Basic Instinct 2. The film, will try to find a new audience when it comes to DVD and Blu-Ray on July 11th.
London psychiatrist Dr. Michael Glass is the type of man crime novelist Catherine Tramell loves to pick at – successful, thriving,
respected, intelligent and at the top of his game. When a famous professional athlete is mysteriously murdered, Detective Superintendent Roy Washburn (Thewlis) asks Glass to analyze potential suspect Catherine Tramell, a sexy American crime novelist infamous for her fiction turning into reality. The magnetism between the two is immediate and Glass is intrigued by Catherine both mentally and physically. But, professional boundaries are blurred as Glass becomes engulfed in Tramell's sea of lies, seduction and intrigue. Glass soon finds himself head-to-head with Tramell in a battle of wits as more mysterious deaths occur, sometimes too close to home. Ultimately, this battle leads to the film's climax when Glass must decide between right and wrong – life or death.
Both and R Rated and an unrated version of the film will be available. Both will come with an audio commentary and the featurette Between the Sheets: A Look Inside the Making of Basic Instinct 2. The unrated film also comes with deleted scenes.
All four versions will arrive on July 11th. The DVDs will price at $26.96 and the Blu-Rays will come in at $38.95.