Anchor Bay readies new versions of Halloween 4 and Halloween 5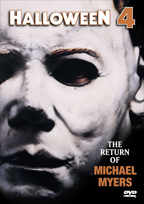 Quite frankly, Halloween 4 has always been of my favorite installments in the series and now we got word that Anchor Bay Home Entertainment is preparing new DVD releases for "Halloween 4" as well as Halloween 5.
Featuring new DiviMax transfers both film will come in their original widescreen formats, enhanced for 16×9 TV sets and with 5.1 channel Dolby Digital audio tracks.
Ten Years Ago, He Changed The Face Of Halloween. In "Halloween 4", he's back. It is a decade after the original Halloween massacre in Haddonfield, and Michael Myers lays comatose in a maximum security prison hospital. But when he learns of the existence of his young niece Jamie (Danielle Harris), he escapes to return home and fulfill his destiny of destruction. Can Michael's relentless killing spree be stopped by Dr. Loomis (the legendary Donald Pleasence) or will this inhuman evil again survive the most frightening night of the year?.
"Halloween 4" will contain a Commentary Track with actors Ellie Cornell and Danielle Harris, as well as the all new 17-minute Featurette "Halloween 4: Final Cut" and the movie's Trailer.
Following her mysterious behavior at the conclusion of "Halloween 4: The Return of Michael Myers," young Jamie (Danielle Harris) is committed to the pyschiatric care of Dr. Loomis (Donald Pleasance). Meanwhile, Michael Myers is presumed dead following a shoot-out with the Haddonfield Police and a fatal fall down a mineshaft entrance. However all is not as it seems, as a well-meaning derelict nurses Michael back to health, and one year later he is back to kill again and again. A recovered Jamie finds herself the object of Michael's murderous rage, and along with help from her new friends and the seemingly indestructible Dr. Loomis, she has to prevent Michael from continuing his bloody rampage. However, there is a new visitor in town. A man dressed in black who quietly walks the streets with an unknown but sinister purpose. Why is he here? What is his connection to Michael? By the end of "Halloween 5: The Revenge of Michael Myers," many will be dead and some will survive, but until the shocking conclusion, you will not be able to keep from screaming!
"Halloween 5" will also feature a Commentary Track, this time with director Dominique Othenin-Girard and actors Danielle Harris and Jeffrey Landman. Also included on this release is an Introduction by Danielle Harris and Ellie Cornell and an "Inside Halloween 5" Documentary featuring rare behind-the-scenes footage, a cut scene, and interviews with Stars Danielle Harris, Ellie Cornell, Executive Producer Moustapha Akkad, Cinematographer Rob Draper, and Don Shanks who played Michael Myers. The disc is rounded out by the movie's Trailer also.