Anchor Bay is giving you access to Room 6 this summer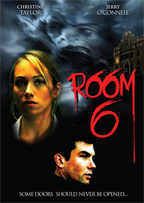 Anchor Bay Home Entertainment is sending us information about another one of their cool independent horror releases. The hospital thriller Room 6 is slated for release in June.
Christine Taylor stars as Amy Roberts, a young woman troubled by visions which torment her dreams and cloud her waking judgment. After being injured in a car crash, her fiancé Nick (Shane Brolly) is mysteriously spirited away by ambulance – but to where? Accompanied by fellow victim seeker Lucas (Jerry O'Connell) she must breach the walls of a haunted hospital destroyed by fire years before. When Amy sees her private apparitions become reality, a place of healing transforms into a hospice of horrors! "Room 6" is staffed with other well known stars of the horror genre, with appearances by Ellie Cornell and Kane Hodder.
The release will contain an anamorphic widescreen presentation of the movie, complete with a 5.1 channel Dolby Digital audio track. The Featurette "Hospital From Hell" is included taking a look at the making of the film as well as a Commentary Track by witer/director Mike Hurst and writer/producer Mark A. Altman.
Your prescriptions will be filled in "Room 6" on June 13 for only $19.98.