Stake another claim in Deadwood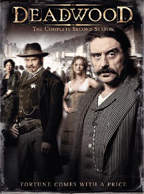 HBO Video has just unveiled details about the upcoming release of Deadwood: The Complete Season Two, scheduled for May.
1877. A new day is dawning in the Black Hills outlaw camp of Deadwood. For better or worse, times are changing, and the transformation from camp to town is imminent. Unsavory new arrivals – looking to cash in on the lucrative anarchy — and a government of outsiders usher in an era of hard decisions and brutal power struggles among the camp's founders, all learning the hard way… fortune comes with a price.
The release of the TV show will come as a 6-disc DVD set containing all of the episodes form the show's second season. It will be presented in its original 1.78:1 widescreen aspect ratio complete with a 5.1 channel Dolby Digital audio track.
As extras the release will include a Historical Featurette called "1877: The Real Deadwood." Also included is a Making-of Featurette on the making of the season's finale. 9 Audio Commentaries are also included as well Deadwood Daguerreotypes.
Prepare to stake your claim on May 23 when "Deadwood" hits retail stores with a suggested retail price of $99.98