Here's the full scoop on Warner's second HD-DVD batch with all the details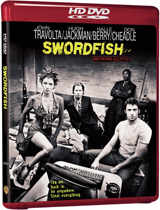 After yesterday's announcement of the second wave of HD-DVD releases, we checked with Warner Home Video to find out what features these releases will contain, and here's the word.
All four titles, "Rumor Has It," "Swordfish," "GoodFellas" and "Training Day" will contain the same features as their DVD counterparts. In practice this means that Rumor Has It will come with only the film's Theatrical Trailer.
Swordfish will contain a Commentary Track by director Dominic Sena, 2 Alternate Endings, the Featurettes "The Making Of Swordfish" and "The Effects In Focus," as well as the movie's Theatrical Trailer.
GoodFellas comes with all the goodies from the 2-disc Special Edition, such as Commentaries with Director Martin Scorsese, Ray Liotta, Lorraine Bracco, Paul Sorvino, Frank Vincent, Co-screenwriter Nicholas Pileggi, Producers Irwin Winkler and Barbara De Fina, Cinematographer Michael Ballhaus, Editor Thelma Schoomaker FBI agent Edward McDonald and real life goodfella Henry Hill. Also included are the Documentaries "Getting Made," "Made Men: The Goodfellas Legacy" and "The Workaday Gangster." "Paper Is Cheaper than Film" is also included, a Storyboard-to-screen Comparison segment.
Training Day will come with the Commentary Track by Director Antoine Fuqua as well as the "HBO First Look" Documentary "The Making Of Training Day." An Alternate Ending and Additional Scenes are also included as well as the Music Videos "#1" from Nelly and "Got You" from Pharoahe Monch. Look also for the movie's Trailer.
The feature films on these releases will once again be presented in a pristine 1080p widescreen transfer while the extras found on the disc are encoded in their original 480i format.