Genius Products brings us season 2 of Project Runway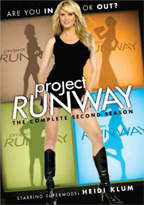 The Weinstein Company and their home video department Genius Products have just unveiled details about the upcoming release of Project Runway: The Complete Second Season, scheduled for release this summer.
Here they are promoting an insider's look into the glamorous, dangerously competitive and stimulating world of the fashion industry. This is it folks, the behind-the-scenes shark-baiting that occurs before you see them in magazines, advertising and television.
"Project Runway: The Complete Second Season 2" is all this and more. It is an "Ultra Hip Reality Show" strutting its heels down the shiny DVD runway on June 27.
Stars of this reality show include glamorous supermodel Heidi Klum, elite fashion designer Michael Kors, in-deman fashion director Nina Garcia as well as a slew of guest stars including Debra Messing, Nicky Hilton and Sacha Cohen. Set in Manhattan's exciting and glamorous Fashion District, supermodel Heidi Klum hosts Project Runway Season 2, the super-successful reality series that gives wannabe designers a chance to break into the notoriously difficult-to-crack fashion world. Each contestant must possess technical skills, a mastery of design principles, and an eye for what's hot and what's not. Famous fashionistas judge the results of assigned projects while behind the curtain, there are enough eccentric characters, petty jealousies, and drama-filled catfights to tickle and delight any reality-show addict's fancy.
Each show promises a glimpse at the day-to-day activities of designers like Santino Rice, Chloe Dao, Andrae Gonzalo, Danielle Vosovic, Nick Verreos among so many others. The set includes 14 exciting episodes extended exclusively for this dynamic set!
Watch a dress designed and created with only flowers (Yum!), the intricacies of ice skating costumes, or the high-caliber stress-out mode of fashioning a beautiful gown for a spoiled socialite.
Add to all this the added stress of deadlines, prima-donna demands and jobs on the line. Experience the fashion world like no other on this four-disc DVD set of "Project Runway – The Complete Second Season" when it will become available on June 27 from Genius Products with a suggested retail price of $39.92.