Final Destination 3 takes you on a thrill ride in July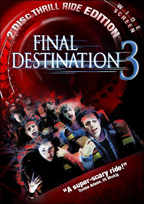 We just got word from New Line Home Entertainment that the studio will release Final Destination 3 as a 2-diosc Special Edition this summer.
Directed once again by the creator of the original film, James Wong takes viewers on a thrill ride of the unexpected. On what should be one of the happiest days of her life, high school senior Wendy joins her friends for a graduation night celebration at a local amusement park. Secured in her seat on a roller coaster, Wendy experiences a vivid premonition of a fatal accident in which the roller coaster becomes a death trap for her and her friends. Emerging from her terrifying vision and still on the ride platform, Wendy demands to be let out of the coaster car. When a fight breaks out, a handful of students are forcibly ejected from the ride. As they watch their classmates and friends from the ground below, Wendy's premonition proves nightmarishly true – the coaster careens out of control and all of those aboard perish. But that's only the beginning…
The Special Edition will be loaded with bonus features, such as a Commentary Track by James Wong, co-writer Glen Morgan and director of photography Robert McLachlan.
Also included is an Interactive Feature that allows you to "Choose Their Fate" as well as an Animated Short called "It's All Around You," taking a closer look at death statistics.
Not quite as morbid, maybe, or is it, there will "Dead Teenage Movie," a Featurette that takes a closer look at the teen horror genre. A Documentary entitled "Kill Shot" is a making-of look at the production of "Final Destination 3." Then there is the Featurette "Planned Accidents" and a Deleted Scene that will also be included in this release.
The Special Edition will be rounded out by the movie's Trailer.
"Final Destination 3" comes in anamorphic widescreen with Dolby Digital EX and a DTS ES 6.1 audio tracks and will be in stores on July 25 with a $29.93 suggested retail price.