Cemetary Man finally finds his way on DVD this summer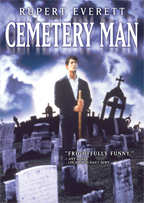 Info just came in that Anchor Bay Entertainment is finally releasing the eagerly-awaited Cemetary Man on DVD – for the first time in America. Also knowns as Dellamorte Dellamore this film by Italian director Michael Soavi is a cult horror movie that will have fans salivating.
"Cemetery Man" stars Rupert Everett as Francesco Dellamore, a cemetery caretaker who finds that his seemingly dead-end job has recently become a little harder. Along with his sidekick Gnaghi (Francois Hadji-Lazaro), Francesco spends his days interning corpses and his nights killing "returners" – those who have risen from their grave seven days after burial. Life changes for Francesco when he falls for a beautiful, mysterious widow (Anna Falchi). When fate intervenes, Francesco must choose between Love Eternal and the Living Dead…
Ever since its release in 1994, Cemetery Man has shocked and tickled with its unique balance of the macabre and the comical. To pay proper tribute to the film, Anchor Bay Entertainment dug deep to find bonus features worthy of the film's reputation and as such fans will be treated to a 16×9 transfer of the movie in its original 1.66:1 widescreen aspect ratio, complete with a newly created 5.1 channel Dolby Digital mix. Also included is "Beautiful: The Making Of Cemetary Man," a new featurette filled with behind the scenes footage and all-new cast and crew interviews, including director Michael Soavi, star Anna Falchi and many others. A Michael Soavi Biography and the movie's Trailer will also be included.
The "Cemetary Man" will go back to work on July 13 with a suggested retail price of $19.98 attached to his back.