Anchor Bay Entertainmnet brings Grounded For Life: Season Two to DVD in May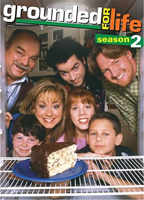 Continuing their season set releases of the comedy series Grounded For Life, Anchor Bay Entertainmnet brings Season Twoto DVD in May.
Sean (Donal Logue) and Claudia Finnerty (Megyn Price) are in their early thirties and trying to raise a family of three in pleasant suburbia, while still holding on to their own youthful and fun ways. The Finnerty clan finds little help in the struggle for the good life from Sean's curmudgeonly father, Walter, (Richard Riehle) and lazy brother, Eddie (Kevin Corrigan), both of whom create chaos at every turn. In this second season the cast is joined by some very special guest stars such as Valerie Perrine, Joseph Simmons (Run-DMC), and Ashton Kutcher.
The DVD set will feature all 17 uncut episodes from the show's second season as well as a series of Bloopers. Also included is an Interview with Ashton Kutcher, a new Interview with Kevin Corrigan, as well as "Sibling Rivalry," an Interview with Jake Burbage and Griffin Frazen.
As another feature the release will contain Highlights from the second season, making for a collection of hilarious moments.
"Grounded For Life: Season Two" will be in stores on May 16 for $29.98.