20th Century Fox takes us to the Valley Of The Dolls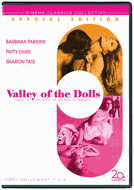 We just got word and all the details in from 20th Century Fox Home Entertainment this morning that the studio will release eagerly awaited special editions of the cult classics Valley Of The Dolls and Beyond The Valley Of The dolls this summer.
In "Valley Of The Dolls," lured by their dreams of fame and fortune, three ambitious young women enter the world of show business and discover how easy it is to sink into a celebrity nightmare of ego, alcohol and "pills" – the beloved "dolls." A prim New Englander (Barbara Parkins) unexpectedly skyrockets from her job as secretary in a talent agency to a glamorous TV model. A determined singer (Patty Duke) finds that Hollywood success can also spell self-destruction. And a beautiful sex symbol (Sharon Tate) is torn between the money commands and the shame of feeling exploited. Based on Jacqueline Susann's phenomenal best-seller about the underside of Hollywood, this fascinating melodrama was once seen as a shocking behind-the-scenes look at how show business creates instant stars, destroys romances and changes personalities forever.
The 1967 drama will feature 2 separate Commentary Tracks – one with director Alonso Durante and the second one featuring cast members. On the second disc of this 2-disc DVD set you will find Screen Tests from a number of Hollywood greats, such as Robert Forester & Laura Devon, Judy Garland, Laura Devon & Tony Scotti, Barbara Parkins & Becker & Harada, Sharon Tate, and Lara Linday. A series of Featurettes will also be included, such as "Backstory: Valley of the Dolls," "The Divine Ms. Susann" and "Gotta Get off this Merry-Go-Round: Sex, Dolls and Showtunes." Also look out for the Pill Pop-Up Karaoke: Follow the Bouncing Doll and Doll-A-Palooza: Addicts Forum A Go-Go. Then there is Translate French Porn Movies and the "What's My Line?" Episode.
A number of smaller supplements are also included, such as Trailers and TV Spots and the original archival Promo Featurette and Making Of. The release is also spiced up by the KD Lang Re-mix, the LACMA Event and Pop Up Trivia Track and the 1994 Soap Opera and the 1981 Mini Series. Wow!
Then there is the Beyond The Valley Of The Dolls: Special Edition in which three female rock'n'rollers travel to Hollywood to claim an inheritance, when they meet up with a kinky music promoter who turns them on to a whole new scene. At first, all seems very exciting and the naïve trio becomes submerged in his dangerous tinseltown underworld-before they discover his true motives.
This 1970 sequel will also come with 2 Commentary Tracks, one featuring Roger Ebert and the other one with cast members. On the second disc of this release you will find Screentests by Michael Blodgett & Synthia Meyers, Harrison Page & Marcia McBroom, Anne Randal & Unknown Actor, 2 Unkown Actors and Claudia Jennings & John Nelson, as well as the Featurettes "Above, Beneath and Beyond the Valley," and "Look on Up at the Bottom." The Best of Beyond: Psychedelic Scrapbook is included together with Sex, Drugs, Music & Murder – Signs of the Time, Baby. Also look out for the Dolls DVD treats in Z-Man's Far Out Party Favors which is completmented by Event Footage from S. Perry-Z-man's boobs. The release is rounded out by Trailers and Teasers as well as an original Archival Promotional Piece.
Both films will arrive on DVD on June 13 with a suggested retail price of $26.98 attached to them.