The next batch of Masters Of Horror is coming in May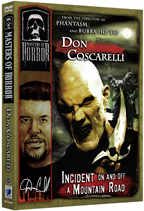 Prepare yourself for the second round of Masters Of Horror releases as Anchor Bay Entertainment gets ready to unleash Don Coscarelli's Incident On And Off A Mountain Road and Mick Garris' Chocolate will make their bow on DVD in May. Both releases will once again be served up as Special Editions, filled with great supplements.
From Don Coscarelli, based on Joe Lansdale's short story and adapted by Stephen Romano, "Incident On and Off a Mountain Road" pits Ellen (Bree Turner), a seemingly defenseless young woman, against Moonface (John DeSantis), a deformed and demented serial killer. As the story cuts back and forth in time, we slowly discover that our heroine is not as helpless, nor as innocent as she initially seems. Trained by her abusive husband Bruce (Ethan Embry) to be a survivalist, she has been instructed to use any and every available object as a weapon in a time of need. Chained to the floor of Moonface's horrific cabin with his unsavory roommate (Angus Scrimm, the "Tall Man" from the Phantasm films), Ellen must marshal all her survival skills as she races against the clock to escape a grisly fate.
The DVD will contain a Commentary Track with Don Coscarelli and writer Stephen Romano. Also included is an Interview Featurette with Don Coscarelli, called "Predators And Prey." The release will also contain a "Working With A Master" Featurette about Coscarelli as well as On-Set Interviews with John De Santis and Ethan Embry, respectively. A Making Of Featurette will also be included as well as Trailers, a Still Gallery and a Biography of the director.

Written and directed by Mick Garris, "Chocolate" concerns Jamie (Henry Thomas), a newly divorced young man who creates artificial flavors for the food industry. Suddenly, he inexplicably starts to experience brief and random sensory flashes from someone – and somewhere – unknown: sights, sounds, smells and touch. Learning that he's experiencing life through the senses of a mysterious woman, he begins to fall in love with her – without having met her. Eventually, he discovers a horrifying secret that binds him inexorably with the perfect woman in an erotic, horrifying dance of death.
As the other DVDs from the series, the release will come with a Commentary Track featuring Mick Garris and DVD Producer Perry Martin. An Interview Featurette and a "Working With A Master" Featurette will laos be included, as well as a Making Of Featurette and On-Set Interviews with Henry Thomas and Lucie Laurier. As a special treat, this release will also contain a featurette in which Mick Garris interviews Roger Corman. The release is rounded out by as Trailers, a Still Gallery and a Biography of the director.
This second batch of "Masters Of Horror" releases will be sold separately for $16.98 each, or as a set for $29.98. The DVDs will be in stores on May 9 for your gruesome entertainment.