Odyssey 5: The Complete Series launches in April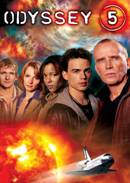 Sony Pictures Home Entertainment has announced plans to release Odyssey 5: The Complete Series on DVD this April as a DVD set containing all
19 episodes of the show, including the pilot.
"Odyssey 5: The Complete Series" tells the story of the crew of the Odyssey, a space shuttle orbiting above the Earth's surface. As they prepare to return home, the crew looks on in horror as the earth explodes before their eyes. Commander Chuck Taggert (Peter Weller), his son and fellow astronaut Neil Taggert (Christopher Gorham), Flight Officer Angela Perry (Tamara Craig Thomas), geneticist Dr. Kurt Mendel (Sebastian Roche), and a TV newswoman (Leslie Silva) escape on the shuttle into space, where they're met by a mysterious being called The Seeker who offers to transport them back five years in time to try to save Earth. Armed only with a bit of computer code referring to "Leviathan," Taggert is determined to save the planet. But when the Odyssey crew discovers that even the smallest action on their part can quickly change the course of history in unexpected and potentially devastating ways, they must band together and proceed with caution for their rescue mission to succeed.
The release will feature an anamorphic widescreen presentation of the show and also contain a Commentary Track on the pilot episode with creator Manny Coto and actor Peter Weller.
The five-disc DVD set will be in stores on April 25 with a $49.95 price tag.