Brisco County Jr. is finally hitting DVD in July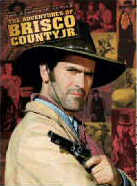 Bruce Campbell fans rejoice. We have just received information from Warner home Vdieo about the DVD release of The Adventures Of Brisco County Jr. this summer.
The world's favorite western/sci-fi/comedy/action cult hit rides again! Here on 8 discs comes the complete series about Brisco (Bruce Campbell), a tough-as-rawhide cowpoke, debonair ladies' man and Harvard-educated smarty-britches who roams from Frisco to Jalisco in pursuit of outlaws who killed his father… and in search of a mysterious orb possessing out-of-this world powers. Hot lead and cool anachronisms await Brisco as he and his sidekicks – including Comet, the intellectual equine who doesn't know he's a horse – fight for justice in the way, way, way-out West. Put your boots in your stirrups, your tongue in your cheek and join the fun. Let's play cowboys and aliens.
The DVD set will contain all eight episodes, making up the Complete Series in their original fullframe aspect ratio, complete with a number of cool special features, such as a Commentary Track on the pilot episodes with Bruce Campbell and the series' creator.
Also included is the Documentary "The History Of Brisco County," offering an exclusive behind-the-scenes look with the cast and the crew. Next up is a series of Mini-Featurettes entitled "Tools Of The Trade" in which Bruce Campbell discusses various aspects of the show.
Also look out for the Roundtable Discussion "A Brisco County Writer's Room" with the writers & producers of the show, as well as "A Reading From The Book of Bruce" – which should be a lot of fun in its own right.
The release also contains a number of Interactive Menu Launching Mini-Featurettes entitled "Brisco's Book of Coming Things" about the signature references to futuristic elements of the show, narrated by Bruce Campbell.
This cool DVD set will swing your way on July 18 with a suggested retail price of $99.98 attached to it.