Anchor Bay brings you the Masters Of Horror later this month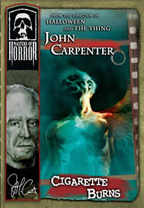 Anchor Bay Entertainment is currently readying the first two entries in their Masters Of Horror series for release later this month. "Masters Of Horror" is a critically acclaimed show on Showtime, featuring new films created by some of the genre's greatest legends. To kick off the series on DVD, Anchor Bay has selected John Carpenter's "Cigarette Burns" and Stuart Gordon's "Dreams In The Witch House".
In "Cigarette Burns," film is magic. And in the right hands, it can be a weapon. For on-the-ropes movie programmer Kirby Sweetman (Norman Reedus), the holy grail of cinema is "Le fin Absolue Du Monde," a legendary lost movie whose sole showing was rumored to have driven its audience to a homicidal frenzy. But as Kirby gets closer to the truth about the film, he's sucked into a private hell of grisly hallucinations and brutal acts of violence. Now the only surviving print of the film is within his grasp… and the most horrific screening of all is about to begin.
"Dreams In The Witch House" is about stressed-out student Walter Gilman (Ezra Godden) who rents a room in a decrepit old house when his graduate thesis studies begin to take some very strange twists: He suffers nightmares about a voracious rat with a human face. He suspects that a gateway to another dimension may exist behind his wall. And he is seemingly seduced by a luscious she-demon who thirsts for souls of the innocent via a covenant that screams for blood. But when Walter must face the most depraved urge of all, will the line between madness, murder and unholy mayhem be crossed forever?
These releases come as packed special editions with a number of cool extras. "Cigarette Burns" for example will contain a Commentary Track by John Carpenter, as well as a second track with writers Drew McWeeny and Scott Swan. A Behind The Scenes Featurette is also included, as well as a featurette on "Working With a Master: John Carpenter." "Celluloid Apocalypse" is an Interview with John Carpenter that you will find on the release, as well as an interview with actor Norman Reedus. The release is rounded out with a John Carpenter Biography, a Still Gallery and Trailers.
"Dreams In The Witch House" comes with an equally impressive list of features, including a Commentary Track with Stuart Gordon and actor Ezra Godden. You will also find a Featurette on the special effects in the movie, called "SFX: Meet Brown Jenkin" as well as a Behind The Scenes Featurette. "Working With a Master: Stuart Gordon" is another feature that is a staple of all "Masters Of Horror" releases. "Dreams, Darkness And Damnation" is an Interview with Stuart Gordon that is complemented by an onset interview with Chelah Horsdal. This DVD release will also contain a Stuart Gordon Biography, a Still and Storyboard Gallery and Trailers.
Each of these DVDs will be in stores on March 28 and carry a surprisingly low, fan-friendly $16.95 price tag – most likely because these feature films are only around one hour long.