Warner Home Video unleashes the second season of Thundercats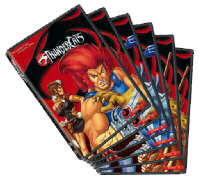 Warner Home Video just sent word that in April we will get to see the first volume of the second season of the animated series Thundercats on DVD.
When a recurring vision torments Thundercats leader, Lion-O, he begins to realize that three Thunderians must have been spared during the destruction of Thundera! Lion-O and his friends quickly decide to execute a daring rescue mission which pits them against the villainous Mumm-Ra, who has strengthened his forces of mutants and broadened the range of his dark territories. In the end, Lion-O saves the spared Thunderians, but the cost is high: Mumm-ra grows more powerful and more determined to destroy the Thundercats!
The 6-disc DVD set will contain the first 34 episodes of the final season of "Thundercats." As extras the release will also contain a Music Video by The Rembrandt's as they play their version of the show's theme song. In a Featurette on the DVD, Bernie Hoffer will discuss his inspiration for the music of the show, and in another segment, Bernie Hoffer will play the Thundercats theme himself live.
"Thundercats Season 2, Volume 1" will be in stores in April 18 in a special lenticular packaging with a $64.92 suggested retail price.