Tales From The Crypt crawl back into your living room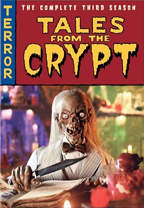 In March Warner Home Video will release the third season of Tales From The Crypt on DVD.
In "Tales from the Crypt: The Complete Third Season" the Cryptkeeper is back with delightfully frightening stories full of horror, unexpected twists and a terrifying taste of black magic. Watch, if you dare, as a woman (Mariel Hemingway) is zapped by a love potion, a financial loser (Michael J. Fox) fakes his death to avoid financial trouble, a struggling actor (Jon Lovitz) strangles his way for a part, and a voodoo priestess (Whoopi Goldberg) conjures a way to save the day.
The DVD set will contain all 14 terrifying, uncut episodes from the show's third season, including "Dead Wait," "The Reluctant Vampire," "Top Billing," "The Trap," "Loved To Death," "Carrion Death," "Mournin' Mess," Abra-Cadaver" and many others featuring countless Hollywood superstars.
As bonus features the release will also contain Crypt Jam and A Tall Tales Panel, a never before seen dissected look at "Tales From The Crypt." Also included on the release will be A Tales from the Crypt Reunion, an interesting and entertaining panel discussion.
Prepare for your dose of gruesome stories that will scare you silly on March 21 when "Tales from the Crypt: The Complete Third Season" creeps into stores for $39.98.