Sony Pictures is re-releasing The Patriot as an extended cut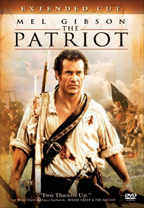 Roland Emmerich's revolutionary war drama "The Patriot" is coming back to DVD for a third time – this time as an extended cut with 10 minutes of additional footage inserted back into the film.
"The Patriot" is the story of Benjamin Martin (Mel Gibson) who, after helplessly watching his family torn apart at the mercy of the British Redcoats, finds himself thrust into the midst of the American Revolutionary War. Unable to remain silent, he recruits a band of reluctant volunteers including his idealistic Patriot son, Gabriel (Heath Ledger), to take up arms against the British. Fighting to protect his family's freedom and his country's independence, Martin discovers the pain of betrayal, the redemption of revenge and the passion of love.
The release will feature an anamorphic widescreen transfer of the movie and a 5.1 channel Dolby Digital track in English, complemented by Dolby Surround track in English and Portuguese. As extras the release will offer 3 Featurettes, entitled "The Art OF War," "The True Patriots" and "Visual Effects." All three featurettes have been part of the movie's previous special edition version.
"The Patriot: Extended Cut" will be in stores on April 25 for $19.94.