Peter Jackson's King Kong will hit DVD in March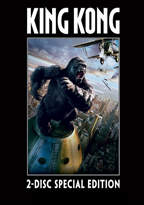 Universal Home Entertainment has finally revealed details about the upcoming DVD release of Peter Jackson's blockbuster remake of King Kong.
Naomi Watts, Adrien Brody and Jack Black star in this spectacular film filled with heart-pounding action, terrifying creatures and groundbreaking special effects unlike anything you've seen before! Get ready for breathtaking action in this thrilling epic adventure about a legendary gorilla captured on a treacherous island and brought to civilization, where he faces the ultimate fight for survival.
"King Kong" will be released in two different versions, as a Single Disc and as a 2-disc Special Edition. Both will feature an anamorphic widescreen transfer of the movie, complete with Dolby Digital 5.1 audio tracks. A fullscreen single-disc version will be sold separately.
The single-disc version will only contain two small features called "The Volkswagen Touareg & King Kong" and "Wish You Were Here."
The Special Edition will also contain an Introduction by Peter Jackson as well as various Production Featurettes.. One of them will take a close look at Peter Jackson's version of 1933 New York, another one will examine the mystery of Skull Island, while others will take a close-up look at the film's extensive post-production steps.
"King Kong" will be in stores on March 28. The single-disc version will carry a $29.98 suggested retail price while the Special Edition version will set you back $31.98. The pricing is unusually high but given Universal's incompetence in the past years it is hardly surprising that the studio tries to milk the film for what it's worth.