NoShame Films brings us more Italian classics with Uno Bianca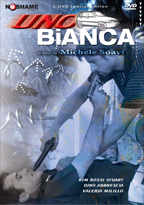 Italian movie specialist NoShame Films has just announced a DVD version of Uno Bianca for release in March. This TV production is not only critically acclaimed but also incredibly engaging und suspenseful, making it a favorite among ganre fans.
With "Uno Bianca", the Italian maestro of suspense Michele Soavi tries his hand at the Italo-crime genre with this fast-paced, violent thriller in the tradition of Michael Mann's "Heat." Kim Rossi-Stuart and Dino Abbrescia star as police detectives on the trail of a criminal gang targeting banks, supermarkets and gas stations along the Rimini coast. Always one step behind the perpetrators, the authorities' only clue is the villain's choice of getaway car, a white Fiat Uno – hence the movie's title "Uno Bianca," which means "White Uno." When an exchange of gunfire with the bandits results in the death of their superior officer, the partners go beyond the reach of the law to bring the killers to justice… only to find that the identities of these masked men are as shocking as their crimes.
Based on Marco Melega's nonfiction book "Baglioni e Costanza," which chronicled the investigation of a string of terrorist-like acts in the Emilia Romagna region of Italy in 1991, "Uno Bianca" finds Michele Soavi employing his trademark shock tactics to give added tension to this paranoid action film.
NoShame Films is presenting this film in its original two-part, three-hour version, as originally broadcast on Italian television and unlike anything you've ever seen in prime time, on a 2-disc release. The release will also contain a number of bonus features, such as an Introduction by producer Pietro Valsecchi, and Interviews with writer Luigi Montefiori, producer Pietro Valsecchi and cinematographer Gianni Mammolotti. Also included are two Featurettes taking a behind-the-scenes look at the production. The release is rounded out by a Photo Gallery.
"Uno Bianca" will be in stores on March 28 with a suggested retail price of $29.95.