In April Tartan Video unveils The Heirloom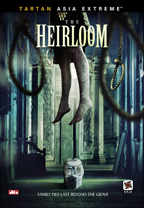 As part of their Asia Extreme series of DVD releases, Tartan Video has just unveiled first details about the release of the Taiwanese horror film The Heirloom.
Twenty years ago, an inexplicable mass suicide occurred in the millionaire Yang household, where the entire family hanged themselves at the exact same time. Only one member survived. To this day, the case remains unsolved. Now, a distant relative inherits the house and moves in with his new fiancée. Mysterious events begin to disturb their lives and force them to confront the evil within. The demented legacy of the Yang family comes full circle and the curse left behind is reborn.
Directed by Leste Chen, one of Taiwan's hottest young directors, this disturbing movie will come to you in full anamorphic glory, complete with a 5.1 channel Dolby Digital track in its original Mandarin, subtitled in English and Spanish. The release will also contain a number of extras but exact details have not yet been determined.
Mark you calendar to receive your heirloom on April 25.