Beastmasters are More Than Meets The Eye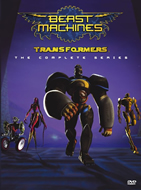 Transformers have reinvented themselves countless times since their introduction twenty-odd years ago. The Beastmasters now get their digital glory when Rhino offers the complete series on DVD.
The Maximals- led by a now troubled and soul searching Optimus Primal- must battle the powerful Megatron and his new army of Vehicons while learning a whole new way of transforming that requires mind/body discipline. The future of their home planet of Cybertron is at stake! Get ready for a complex, spiritual, and action-packed chapter in the Transformers story.
Both seasons of the show are onboard in Dolby Digital 5.1 as are several extras including interviews with David Kaye, Marv Wolfman, Bob Skir, Susan Blu and a commentary with Bob Skir and Steven Melching.
The series is just around the corner with a February 28th.