20th Century Fox Home Entertainment revisits Ice Age – super cool, this time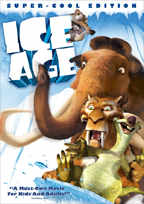 20th Century Fox Home Entertainment will be releasing a new DVD version of the animated, prehistoric comedy "Ice Age, " called Ice Age: Super-Cool Edition.
They came… they thawed… they conquered the hearts of audiences everywhere in the coolest animated adventure of all time! Heading south to avoid the bad case of global frostbite, a group of migrating misfit creatures, consisting of a mammoth, a sloth and a sabretooth tiger, embark on a hilarious quest to reunite a human baby with his tribe.
This new 2-disc version will be filled with extras, such as a Commentary Track by director Chris Wedge and Co-Director Carlos Saldanha, and Deleted Scenes with optional directors' commentary. Also included is Extreme Cool View, an all new feature which combines fun and interesting facts about animated filmmaking and the real Ice Age throughout the movie. The Short Film "Gone Nutty – Scrat's Missing Adventure" will also be included once again, as well as Sid on Sid, a funny self-parody of selected scenes. "Scrat Reveals" is another Featurette included on the release and the DVD will also contain Animation Progression examples. "The Making Of Ice Age" will be included alongside with "International Ice Age" and the HBO Special "Behind The Scenes Of Ice Age." The Academy Award® winning "Bunny" Animated Short will be included also, complete with optional commentary, as well as Build Your Own Design Gallery and Size Comparison/Science Behind Ice Age Gallery.
The release will be rounded out by a number of Set-top Games playable on your DVD player and various DVD-ROM Features, including countless printables, and various, small PC games, a Sneak Peek at the sequel "Ice Age 2" and Trailers for the movie.
The "Ice Age: Super-Cool Edition" will be in stores on March 14 with a $19.98 price tag.