Warner Home Video takes you to the North Country in February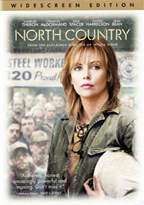 In February, Warner Home Video will release the drama North Country which outlines the fictional account of the country's first class action sexual harassment lawsuit.
When Josey Aimes returns to her hometown in Northern Minnesota after a failed marriage, she needs a good job. A single mother with two children to support, she turns to the predominant source of employment in the region – the iron mines. The mines provide a livelihood that has sustained a community for generations. The work is hard but the pay is good and friendships that form on the job extend into everyday life, bonding families and neighborhoods with a common thread.
The release will come as a widescreen version and as a fullframe version that is sold separately. As extras the release will contain a selection of Deleted Scenes and a Making Of Documentary
"North Country" is making its way to stores on February 21 at a suggested retail price of $28.98.