Warner Home Video drives home Dog Day Afternoon in February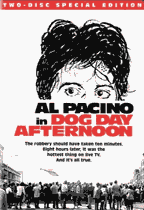 Warner Home Video just announced details about the forthcoming release of the Sidney Lumet thriller Dog Day Afternoon as a 2-disc Special Edition.
Al Pacino and director Sidney Lumet reteam for this unique thriller, filled with sardonic comedy, that earned six Academy Award nominations (including Best Picture) and won an Oscar for Frank Pierson's streetwise screenplay. Al Pacino plays mastermind Sonny and John Cazale is his partner Sal — two optimistic nobodies who set out to rob a bank, resulting in an unexpected media circus and complete disaster. Based on a true incident, "Dog Day Afternoon" is an explosive powerhouse that impresses every time you see it.
The 2-disc Special Edition will feature a Commentary Track with director Sidney Lumet and also contain a Four-part Documentary, covering "The Story," "Casting The Controversy," "Recreating The Facts" and "After The Filming" in individual, dedicated featurettes. Also included on the release is the Vintage Featurette "Lumet: film Maker," wich takes a look at the work of the acclaimed director. The release is rounded out with the movie's Theatrical Trailer.
"Dog Day Afternoon" will be in stores on February 28 and can be yours for $26.99.