Huff: Season One debuts on DVD in March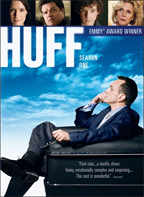 Showtime's critically-acclaimed, adult drama Huff: The Complete First Season debuts on DVD March 21 from Sony Pictures Home Entertainment. Starring Hank Azaria, Paget Brewster, Emmy-winner Blythe Danner, Anton Yelchin, Andy Comeau, Kimberly Brooks and Emmy-nominee Oliver Platt, "Huff: The Complete First Season" features all 13 episodes and exclusive bonus features.
In "Huff," Hank Azaria portrays a psychiatrist who gets a wakeup call after a 15-year-old boy commits suicide in his office. His whole existence – as doctor, husband, father, son and brother – goes through a reawakening. As the series unfolds, his personal life and career blur the lines of reality, often causing his so-called normal world and family life to be as surreal as that of his patients. Soon he begins to question who he is, what he's made of and if he fits in – anywhere.
The four-disc DVD set will contain a number of extras, such as Commentaries on select episodes with creator/executive producer Bob Lowry and director/executive producer Scot Winant. Three Featurettes are also included, entitled "Behind the Therapy," "Character by Design" and "Lens of Truth." Five minutes of Deleted Scenes will round out the release.
"Huff: The Complete First Season" will be in stores on March 21 and carry a $39.95 price tag.