Capote is hitting DVD in March already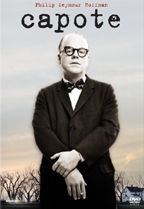 Critically acclaimed on all fronts, Capote is coming to DVD from Sony Pictures Home Entertainment this March in a release that also contains some exciting extras.
In 1959, Truman Capote, a popular writer for The New Yorker, learns about the horrific and senseless murder of a family of four in Halcomb, Kansas. Inspired by the story material, Capote and his partner, Harper Lee, travel to the town to research for an article. However, as Capote digs deeper into the story, he is inspired to expand the project into what would be his greatest work, In Cold Blood. To that end, he arranges extensive interviews with the prisoners, especially with Perry Smith, a quiet and articulate man with a troubled history. As he works on his book, Capote feels some compassion for Perry which in part prompts him to help the prisoners to some degree. However, that feeling deeply conflicts with his need for closure for his book which only an execution can provide. That conflict and the mixed motives for both interviewer and subject make for a troubling experience that would produce an literary account that would redefine modern non-fiction.
Philip Seymour Hoffman gives a riveting performances as Truman Capote in this film and he also contributes a Commentary Track on this DVD, together with director Bennett Miller. A second Commentary Track will feature Miller with the movie's writer Dan Futterman.
A Featurette about Truman Capote is also included on the release as well as a number of Extended Behind The Scenes Documentarties. that will take a closer look at the production as well as the characters and events of the movie.
"Capote" will be in stores on March 14 with a $28.95 suggested retail price attached to it.