Anchor Bay unleashes the fury of the Class Of 1984 on DVD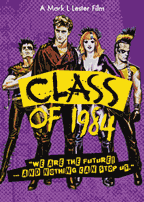 It is a violent and explosive mix between gang and horror film and now Anchor Bay Entertainment has prepared a DVD version of Mark Lester's cult classic Class Of 1984, ready for release in February.
They're all part of a typical day for the students of Lincoln High. Into this academic abyss arrives Andy Norris (Perry King), an idealistic and naïve music teacher who has moved into the community with his pregnant wife Diane. Appalled by the crime-infested school, Norris soon crosses sabers with its teenage kingpin, the shrewd and sadistic Peter Stegman (Timothy Van Patten). With Norris setting his sights on reforming Stegman, and the young miscreant declaring war on his teacher, the duo sets a fateful showdown into motion on the night of an important school orchestra performance.
Directed and co-written by Mark L. Lester, "Class Of 1984" is one of the seminal cult movies of the early 1980s. While its vision of a decaying, violence-plagued inner city school seemed over-the-top in 1982, it sadly prophesized the future of American education. Lester's film – which caused a stir at Cannes and reputedly offended one of its own screenwriters – is also notable for its cast, which includes Van Patten, Roddy McDowall and a very young Michael J. Fox while rock legend Alice Cooper performs the theme song, "I Am The Future." No longer are the students of Lincoln High the future, for the future has arrived!
The DVD version will include a sparkling new transfer in anamorphic widescreen and boast a 5.1 channel Dolby Digital audiotrack. It will also include a number of great extras, such as an Audio Commentary with Mark Lester and DVD producer Perry Martin. Also included is the Featurette Blood And Blackboards as well as a Poster and Stills Gallery. The release will further offer up the movi'es Theatrical Trailer and TV Spots as well as Mark Lester's Biography and the movie's Screenplay for DVD-ROM users.
"Class Of 1984" will roam the hallways on February 21 and carry a $19.98 suggested retail price.