November comes in December this year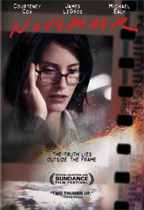 Sony Pictures Home Entertainment has just announced that the release of November has been scheduled for December. Official Selection of the 2005 Sundance and San Francisco Film Festivals, "November" is a riveting and critically acclaimed psychological thriller, starring Courteney Cox and James LeGros.
When her boyfriend is shot to death in a robbery, Los Angeles photographer Sopie Jacobs (Cox) tries her hardest to put the event behind her. But as she struggles to get over the murder, Sophie's life begins to change, leaving her clueless as to what's coming. But worst of all, the line between reality and fantasy is beginning to shatter.
"November" will contain a number of extras, such as Commentary Track by director Greg Harrison and director of photography Nancy Schreiber, as well as a second Commentary Track with director Greg Harrison and screenwriter Benjamin Brand.
Also included is an Alternate Opening and an Interview Featurete with composer and visual effects artists Lew Baldwin. The release will be rounded out by a Photo Gallery.
"November" will be in stores on December 20 and carry a $24.96 price tag.