Cameron Diaz will walk In Her Shoes in January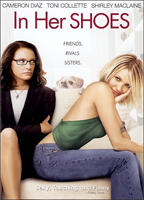 20th Century Fox Home Entertainment has scheduled the DVD release of the Curtis Hanson's comedy In HER Shoes for late January.
Cameron Diaz, Toni Collette and Shirley MacLaine "all deserve Oscars" (WCBS-TV) for their hilarious and moving performances in "the most rewarding family comedy since Terms Of Endearment" (New York Magazine). Flirty, flaky, party girl Maggie (Diaz and plain, dependable lawyer Rose (Collette) are sisters, best friends and bitter rivals who seem to have only two things in common: DNA and size eight feet. Only when their love-hate relationship veers towards the hate end of the spectrum do they accidentally discover they also share a long-lost grandmother (MacLaine) who enriches their lives and helps them make peace with each other – and themselves!
The DVD will be released in two versions, one offering the original 2.35:1 widescreen version of the movie, while the second one will present the movie in a pan&scan transfer. The DVDs will contain 5.1 channel Dolby Digital and DTS audio track in English as well as a Spanish and French tracks in Dolby Surround sound.
As extras the release will contain an Alternate Opening Title Sequence as well as a Making Of Featurette. You will also find a segment on The Casting Of Honey Bun on the DVD as well as a Featurette called "A community For Acting Seniors." The release will also contain an Inside Look Featurette called "John Tucker & Just My Luck."
"In HER Shoes" will be in stores on January 31 and carry a $29.98 price tag.