Anchor Bay is bringing the third season of Doogie Howser, M.D. to DVD in January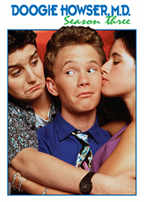 Anchor Bay Entertainment has just sent over some details about the release of the third season of Doogie Howser, M.D., which is scheduled for release in January.
What happens when Dr. Doogie Howser, the teenage wiz kid with a heart of gold, finds his life changing in every way? From dealing with his virginity to moving into his own pad, Doogie is becoming a man and it's a challenge bigger than getting through med school.
In season three, Doogie returns with his best friend Vinnie Delpino (Max Casella) and his best girl, Wanda (Lisa Dean Ryan). They're another year older, and as they grow up they sometimes grow apart too.
The release features all 24 episodes from the show's third season in a 4-disc DVD set. The release will contain an Intimate Interview with creator James B. Sikking, as well as a Featurette called "Growing Up On The Set" in which star Neil Patrick Harris takes a fun-filled trip back to his days playing Doogie.
"Doogie Howser, M.D.: Season 3" will be in stores on January 17 with a $39.98 sticker price attached to it. Just what the doctor prescribed…