Sony Pictures Home Entertainment takes you Into The Blue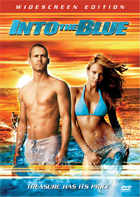 The movie didn't perform at the box office at all, which may explain the quick turn-around of this action flick on DVD. Scheduled for release just after Christmas, Sony Pictures Home Entertainment will send viewers on a dangerous treasure hunt – Into The Blue.
Paul Walker and Jessica Alba heat up the screen as two sexy young divers who dream of finding hidden treasure. When they take some friends (Scott Caan and Ashley Scott) on an extreme sport adventure, the last thing they expect to see below the shark-infested waters is a legendary pirate ship rumored to contain millions of dollars in gold. But their incredible good fortune is short-lived, as a ruthless gang of deadly criminals gets word of what they have uncovered. The discovery of a lifetime could just cost the treasure hunters their lives, in the exciting new thriller from the director of Blue Crush.
The release will feature an anamorphic widescreen transfer of the movie. A fullframe version will be sold separately. Audio options will include 5.1 channel Dolby Digital and Dolby Surround tracks.
As extras the DVD will come packed with a Commentary Track by director John Stockwell, 10 Deleted Scenes with optional commentary by the director and a Screen Test Featurette. Also included is a Making Of Featurette called "Diving Deeper Into The Blue" and a selection of previews.
"Into The Blue" hits retail shelves on December 26 with a sticker price of $28.96. A UMD version for Sony PSP will also be released on the same day.