Jean Reno faces the Empire Of The Wolves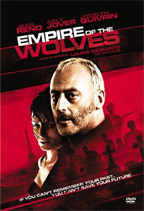 Sony Pictures Home Entertainment will bring the French production Empire Of The Wolves to DVD this December.
From the producer of "The Professional" and "The Fifth Element" and starring Jean Reno, this intense horror thriller finds a woman suffering from nightmares and bouts of amnesia mysteriously tied to a series of gruesome murders around Paris. Anna Heymes (Arly Jover), the wife of a senior government official, is experiencing the loss of memory and terrifying hallucinations. In the Turkish neighborhood of Paris, two police officers, Nerteaux (Jocelyn Quivrin) and Schiffer (Reno), are trying to solve the mystery of the sadistic murders of three women, all clandestine Turkish laborers. While the upright Nerteaux is determined to stop the killings, Schiffer is a dirty cop whose real goals are more questionable. In the course of the investigation, they discover that an armed branch of the Turkish mafia might be responsible for the murders. At the same time, Anna learns that her face has been transformed by plastic surgery, leaving nothing of her previous appearance. The link between Anna and the three victims becomes ever more clear as Anna's horrible past is progressively revealed to her, to Nerteaux, and to Schiffer.
The release will feature an anamorphic widescreen transfer of the movie complete with Dolby Digital 5.1 audio tracks in French and English. No extras will be provided on the release, unfortunately.
"Empire Of The Wolves" will be in stores on December 27 with a $24.96 sticker price.