I want Charles in Charge of me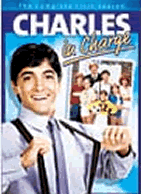 We never tuned in, but we always found ourselves watching Charles in Charge. It was just sort of always on back in the day. Now it can be on your TV again as the first season (aka that one weird season with the "other family" is coming to DVD from Universal Home Entertainment.
Charles in Charge started on CBS in 1984 as college student Charlesmoves in with the Pembroke family. Charles agrees to watch the three kids, ages 10-14, in exchange for free room and board while he's not in class on campus. His best friend, Buddy, was always on hand to add to the hilarity, and of course there's a pretty lady for Charles to pursue in the form of schoolmate Gwendolyn.
The single year of the show's broadcast television life will come on three discs, with very little in the way of features. The set arrives on February 14th with a suggested retail price of $34.98.