He-Man arrives for Valentine's Day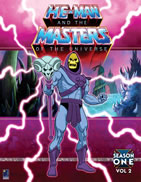 If you're looking to tell her how much you really care, try the gift that speaks of endless romance; He-Man and the Masters of the Universe: Season 1, Vol. 2. Arriving in February from BCI.
He-Man, Skeletor, Orko and the rest continue the fight for Eternia with episodes 34-65 of the Filmation cartoon on 5 discs. The sixth disc will contain two new documentaries "The Stories of He-Man And The Masters of The Universe Season 1 Part 2" and "He-Man invades the San Diego Comic-Con" a full length animated storyboard and episode comparison for House of Shokoti Pt 1, 50 profiles of characters, creatures and arifacts, trivia, commerical spots, DVD ROM content, and two 4×6 art cards by Earl Norem and Gilbert Hernandez.
The set arrives on February 14th.