DC Comics superhero The Flash arrives on DVD at lightning speed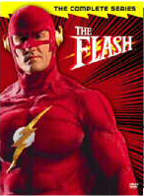 Warner Home Video has just sent over information about an exciting new release to hit DVD in January. The live-action television series The Flash will make it to DVD as a Complete Series DVD box set.
John Wesley Shipp portrays Barry Allen, a police crime technologist endowed with sudden talents after a fluke lab accident and Amanda Pays is medical researcher Tina McGee, who monitors Allen's accelerated metabolism and guards his secret identity. As The Flash, he has such powers as ultra-speed reflexes and the ability to vibrate his molecules so rapidly he can pass through solid walls. He pledges to use his new powers for good, and rid Central City of such criminals as The Trickster, Captain Cold and The Ghost.
The DVD collection includes all 22 episodes of this live action series that has a comic-book look, great special effects and appropriately campy style and stars John Wesley Shipp as The Flash and Amanda Pays as medical researcher Tina McGee. The original 90-minute pilot will also be included in the set.
The six-disc set will be available on January 10, 2006 with a suggested retail price of $59.98.