Yee-haw! The Dukes Of Hazzard arrive in December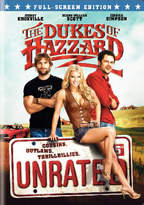 Warner Home Video has just unveiled details about the DVD release of the new The Dukes Of Hazzard movie this December.
The film is an action comedy based on the 80's hit television series but is set in the present day. "The Dukes of Hazzard" follows the adventures of "good old boy" cousins Bo (Seann William Scott) and Luke (Johnny Knoxville) Duke, who with the help of their eye-catching cousin Daisy (Jessica Simpson) and moonshine-running Uncle Jesse (Willie Nelson), try and save the family farm from being destroyed by Hazzard County's corrupt commissioner Boss Hogg (Burt Reynolds). Their efforts constantly find the "Duke Boys" eluding authorities in "The General Lee," their famed 1969 orange Dodge Charger that keeps them one step ahead of the dimwitted antics of the small southern town's Sheriff Roscoe P. Coltrane (M.C. Gainey).
Warner will release two separate versions of the film. The first release will be the Theatrical Version – in fullframe only – while the second one will be an Unrated Version that includes footage not seen in theaters. This version will be available in widescreen and fullscreen as individually sold releases.
As extras you will find a selection of Featurettes on the release, such as "Daisy Dukes: The Short Short Shorts" in which you will learn how they made the shorts so short and how to make your own, or "The General Lee Lives", giving you a close look at the beloved car, and "How to Launch a Muscle Car 175 feet in 4 Seconds," covering how they pulled off such a large scale car jumping stunt in the movie.
Also included is a Gag Reel featuring both rated and unrated gags (?!?) as well as Jessica Simpson's "These Boots are Made for Walking" Music Video. Additionally, a Behind-TheScenes Look is included on the release, as well as the movie's Theatrical Trailer.
"The Dukes Of Hazzard" is scheduled for release on December 6 with a $28.98 ticket price.