The Exorcism Of Emily Rose will haunt DVD in December already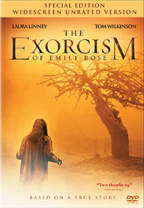 Making a quick turn-around to DVD, The Exorcism Of Emily Rose was one of this year's surprise hits at the box office. Sony Pictures Home Entertainment is now preparing to release the film on DVD the week before Christmas already.
A thrilling, horror film based on a true story about a single lawyer (Laura Linney), who takes on the church and the state, when she fights for the life of a priest (Tom Wilkinson), who has performed a deadly exorcism on a young woman. Linney must battle the cocky state lawyer (Campbell Scott) as well as her own demons, as she realizes that her career so far has not led her to fulfillment.
The release will come in two versions, one featuring the film's theatrical version and another one, boasting an unrated version of the movie. Both will be available in anamorphic widescreen featuring Dolby Digital 5.1 audio track.
As extras the release will contain "Genesis Of A Story," a Featurette in which the cast and crew talk about how they first heard of the story, and discuss the writing of the script. Another featurette called "Casting The Film" takers a look at the the selection of actors to portray the film's characters. A Visual Design Featurette will also be included. The release is rounded out by a Director's Commentary Track.
"The Exorcism Of Emily Rose" will be available on December 20 for a $28.95 suggested retail price. A UMD version of the movie for playback on your Sony PSP will be released on the same day as well.