Tartan Video is dealing with an Ab-Normal Beauty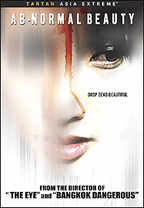 Another Asia Extreme release is coming your way this fall, directly from Tartan Video – Ab-Normal Beauty.
Jiney is a beautiful and talented photography student. One day she witnesses a gruesome car accident but instead of being horrified she finds herself aroused. Overcome with an excitement and satisfaction, she becomes obsessed with photographing death. While coming to terms with her abnormal feelings, she receives a video tape showing a stranger beaten to death. Now she's the object of someone else's desire and her obsession with death may just get her killed.
The DVD will feature an anamorphic widescreen transfer of the movie, complete with 5.1 channel Dolby Digital and DTS audio tracks and subtitles in English and Spanish. As extras the release will also contain Deleted Scenes and a Making Of Featurette. The DVD is rounded out by the movie's original Theatrical Trailer and a Photo Gallery.
"Ab-Normal Beauty" is scheduled for release on December 27 with a $24.99 sticker price.